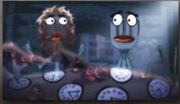 The Dolphin Clock Thing is a rotting dolphin carcass who was covered in clocks by The Hobo Spatula and had an FM radio put in his head. He "rots away time, so you can tune into the future," allowing him to tell people their destinies. He has told The Hobo Spatula that he will be king of the Moon People.
Appearances
Edit
Spatula Madness
Edit
When, The Hobo Spatula tries to sell Edward the Dolphin Clock Thing, it tells him that it is his destiny to defeat the Spoons.
While Edward is asleep, The Hobo Spatula contacts him through The Dolphin Clock Thing, and the two have a breif conversation.
Ad blocker interference detected!
Wikia is a free-to-use site that makes money from advertising. We have a modified experience for viewers using ad blockers

Wikia is not accessible if you've made further modifications. Remove the custom ad blocker rule(s) and the page will load as expected.